I was able to view the patents using interneTIFF till yesterday. Now QuickTime

is opening the patent images.
How do I open the Saved TIFFs with innoVUE?
Possible Reasons:
-Recent Windows Operating System Upgrade: Your system registry might have been updated. You have to re-install interneTIFF OR
-QuickTime interference:
OPTION 1 :
STEP 1:
The first thing to check is to open innoVUE from your desktop and Select User Preferences

and Fix File associations and check the Status of the file associations.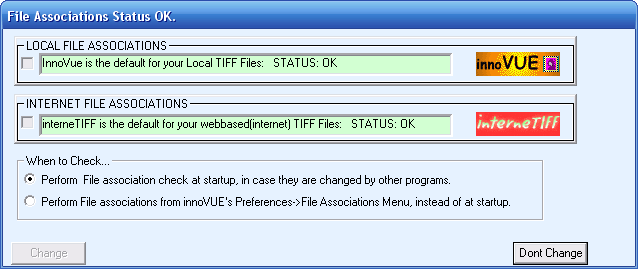 Anytime, the TIFF associations are hijacked from interneTIFF and innoVUE, you can re-associate them back using this screen.
If the status is not OK, then click on the Change Button.
STEP 2 :
QuickTime is interfering and taking over the TIFF Format. You have to disable QuickTime TIFF Format.
Open QuickTime Player->Edit Menu->Preferences->QuickTime Preferences.
Select Browser Plug-in from the PullDown Menu and Click MIME Settings Button, Browse to Images and uncheck TIFF.
FireFox/Opera users: Locate your browser's plug-in directory((C or D):\Program Files\Mozilla Firefox\plugins ) and delete npq*.dll
You might have to Re-install interneTIFF after disabling Quick Time .


OPTION 2 :

Open the Folder that has the TIFF Images
Right Click on any TIFF Image,Select
Open With
and Select
Choose Default Program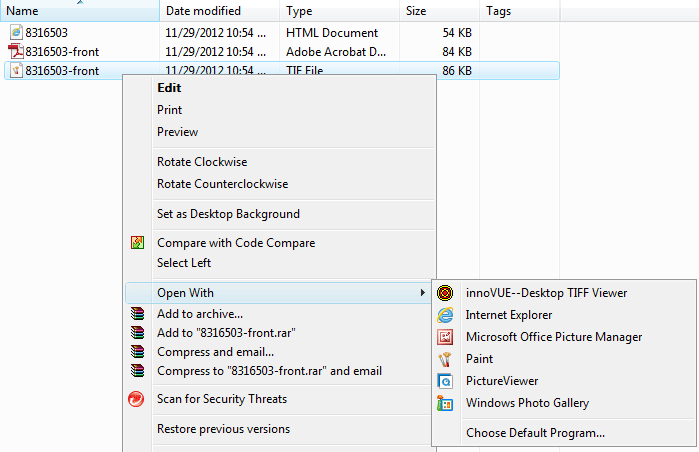 Select innoVUE-desktop TIFF Viewer and
Check
Always us the Selected Program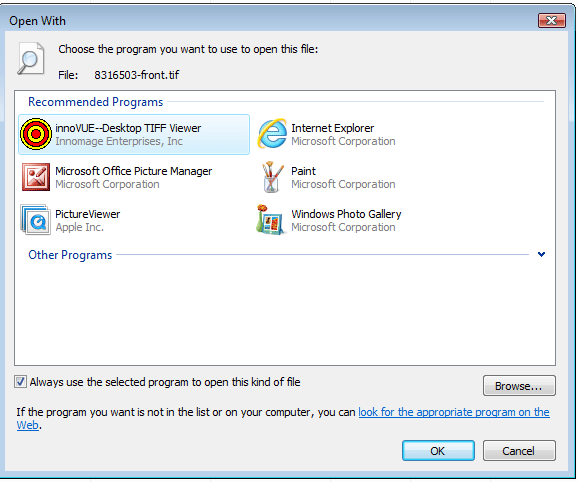 4.

I am getting

a "HTTP_STATUS_REQUEST_TIMEOUT" Error.



These errors are due to the fact that you are still using our discontinued, obsolete products. These products do not work with the latest browsers.
You have to Upgrade to the latest Version.
UPGRADE TO
V11.0 with Discount
In order to develop and support interneTIFF integration with the latest technological innovations with Browser Technology(IE7,IE8,FireFox3+,Google Chrome, etc) and new OS, we have retired the following older versions permanently. No Support is available for these versions.
Version 4.x to Version 9.x